How I Make $2700/month on Autopilot by Publishing E-Books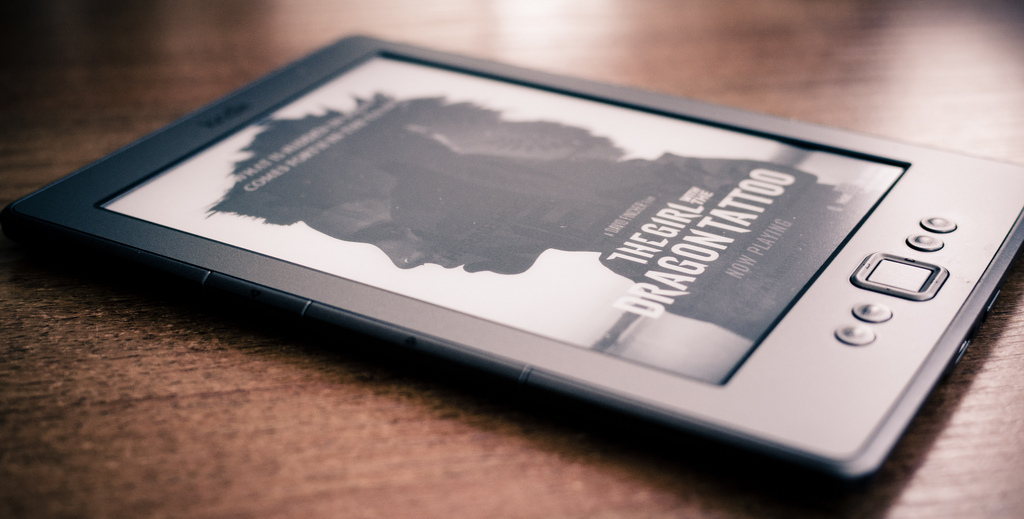 This post is part one of a three part series on building a niche business by publishing ebooks. I will cover finding your niche to hiring reliable workers through to marketing and launching your book and blowing away your sales goals.
Part 1: Finding Your Niche
The purpose of this post is to show you exactly how in 6 months, I built a $2700/month passive income, side business by self-publishing niche books on Amazon Kindle.
Niche-books are nonfiction books that provide solutions to people's problems, desires, and frustrations.
Here's some screen shots of recent royalty payments. The first image is a one-month snapshot of my digital sales, and the second image is a 2-month snap shot of my paperback sales (both dated on August 8, 2014).
As you'll notice, my monthly average is just over $2,700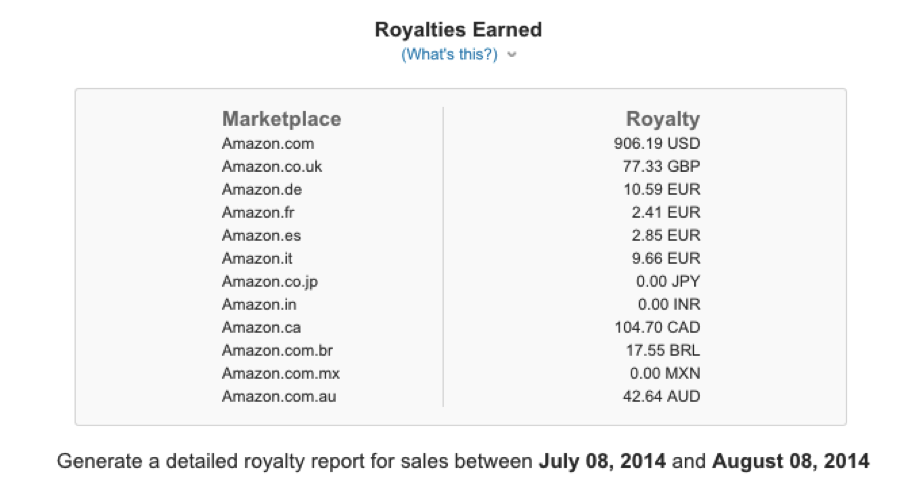 In this series, I will include email templates, screenshots, and details you need to replicate EXACTLY what I've done.
This is an example of how to make your money work for you, as opposed to you working for your money. That being said, you'll be required to hire people to work for you.
Series Breakdown
Take this post as an informative comfort challenge. I'll teach you how to find the right people and I'll teach you what to look out for so you don't get burned hiring the wrong people.
To help you along the way, I've split this post into 3 separate sections – this being the first.
These 3 sections will be:
1. Finding a profitable niche
2. Hiring reliable workers to make you a bestseller
3. The book launch formula to kick start your book sales
Let's dive in to part 1 – Finding a profitable niche.
A Checklist To Passive Income
Publishing books is a very turnkey process.
Once you learn the system, it's very easy to turn the dial and scale up.
Where most people fail is the attention to detail. It's very easy to cut corners by penny pinching on your hires. Publishing poor quality content does not work and will not sell. Pay for good workers to do good work that you'd be proud to call your own.
Here's everything you'll need to successfully self-publish a book:
An formatted, and edited niche book
Placement, keywords, and a book description
Pictures for the book
An author to take the credit
A book cover
Reviews
A marketing strategy
What YOU will Need to do
The only things you'll need to do yourself are choosing a niche to write about, getting reviews for your book, and marketing your book.
For everything else, you'll need to hire the right people to do the job.
The first thing you'll need to do is figure out what niche you're going to pursue.
Finding Your Niche
The reason I love self-publishing is because it's a cheaper form of real estate. You purchase property that pays you back in monthly dividends until you've received your full return on investment. After that, you're receiving an infinite return forever without having to do anything at all.
The kicker? Picking the right real estate to invest your money into.
Choosing the right niche is the most important part of the self-publishing process.
It won't matter how well the book is written if you get into the wrong niche. You'll waste your money and you'll lose your motivation.
Visit the Kindle Bestsellers site and choose a category that interests you. I've chosen Cookbooks, Food, and Wine for this example: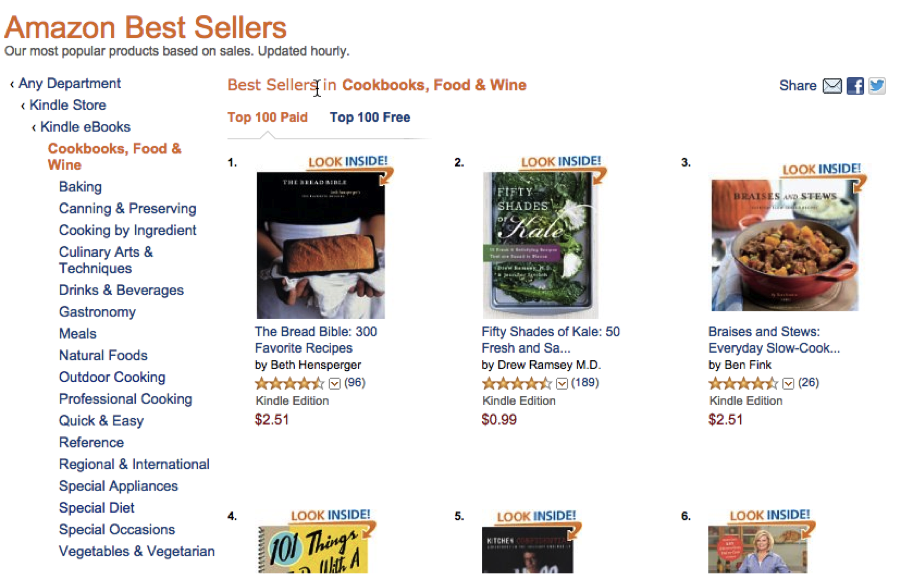 Scroll through the books and look for trends in the books that are selling well. I noticed a couple books on grilling recipes, so I dug a bit deeper by checking out categories related to grilling to see how well they were doing, and what people are saying about them.
I checked out Outdoor Cooking, and Special Appliances (for BBQs). Remember to write down which categories you're going through so you can use them when you're submitting the book onto Amazon.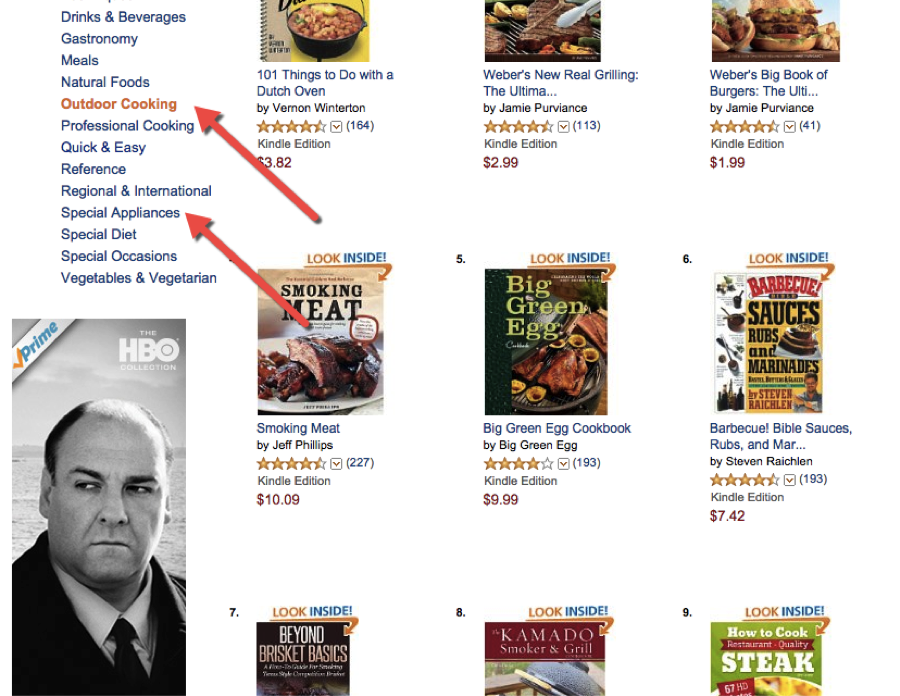 What you'll need to do next is go through the books that have a lot of reviews, and look through the reviews to find out what people are asking for by reading their complaints and criticism.
I recommend reading through the 2-4 star reviews to get a good grasp of what people in that niche are looking for.
This is when you'll want to take out a notepad and copy over all the juicy info you're going to use to create your book.
Here's some stuff I found for grilling books in this bestsellers list:



Notice a trend in what people are saying? It appears that a lot beginner cooks, and beginner grillers are looking to learn the basics. Simple Grilling for Beginners has the potential to be a good, evergreen topic that you can dominate.
Your next step is to further validate your idea to see if it's worth putting your money into.
Validating a Money-Making Niche
These are the 3 criteria for publishing a successful niche book:
Criteria 1: The target audience has money
If you're selling to a low-income demographic, you're going to get low-income results. Target people who have money.
Criteria 2: People are looking for a solution
You already know that people are asking for your niche topic, because you've read through their comments and your building your book around the feedback from your target market.
You're basically giving them exactly what they're looking for.
Criteria 3: An unsaturated market
There are countless, wide-open, niches on Amazon. There's no need to do what everybody else is doing.
Why compete with everyone when you can compete with very few people instead? The less competition you have, the more exposure your book will get (if you followed my research steps above), and the more sales you'll get by becoming the authority in your niche.
Let's go over how to measure this so you can finalize your decision on a niche and move onto the hiring process to get your book creation in motion.
Can You Make Sales in Your Market?
For this step, you'll need to put yourself in the shoes of your target market. You'll have to search through Amazon like your customers would. This way you'll have a good idea of how easy it will be for people to find your book.
Use Amazon's search bar to type in different keywords that you think people would use to find your book. The more specific you are, the better.
If Amazon suggests the keyword you're searching (see below), then you can be sure that it's a frequently searched term on Amazon.
Also notice that when we searched for the term grilling, 810 books are populated in the search. This means you'll have to beat out 810 people to rank your book for the term grilling, so it might not be a good idea to create a general grilling book.
Lucky for us in this case, our topic is grilling for beginners, which is the third most searched term according to the suggest tool, so there may still be hope for our niche to be a valid one.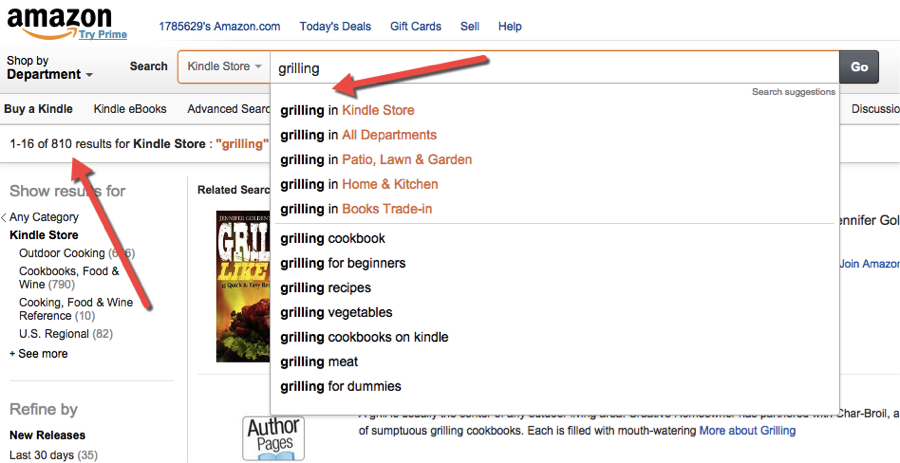 As you can see below, the term
grilling for beginners only has 25 results
, and after going through these results, I noticed that only one book is a Grilling for Beginners Cookbook.
The book cover looks amateur, and the book only has 1 review, which is a good indication that the books not doing so well and it will be an easy book to take over in this niche.
The book's bestsellers rank is higher than 150,000 so it's selling copies, but it's not selling enough for us to see it as a strong competition.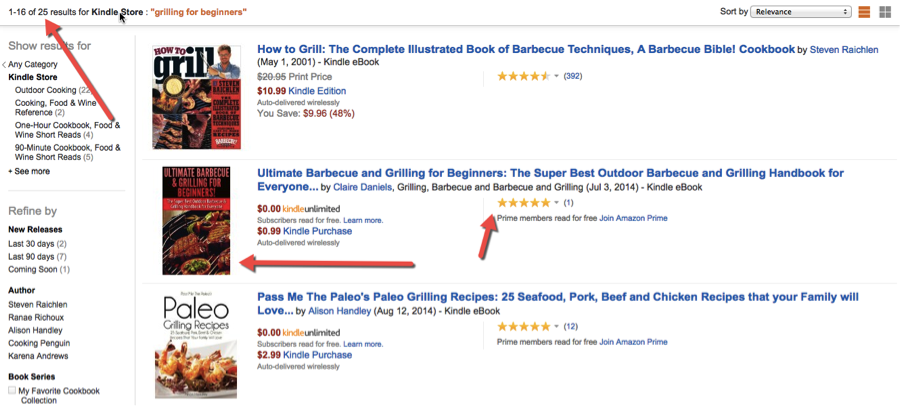 You can do this same analysis for any keyword that's relevant for your book. Write down all of these keywords when you find them, as you'll need them for the submission process I'll be covering in my final post.
The niche is wide-open, now it's time to find the right person to write a book on the niche. We'll get into hiring in my next post.
Until then, I'd like to offer some action steps for you to follow so you're ready for my next post.
Decide on 3 niches that look like they have potential for your first niche book.
Dig deeper by reading through reviews and validating your ideas using the methods above to chose the one best niche out of the three.
Write down the 2 most specific categories to assign to your book to and 10 keywords that are relevant, and open keywords for your book to rank in.
Subscribe to our newsletter below to be notified when the next post in this series comes out and to get our free swipe file that contains everything you need to start this for yourself.
Part 2: Hiring Your Writer and Designer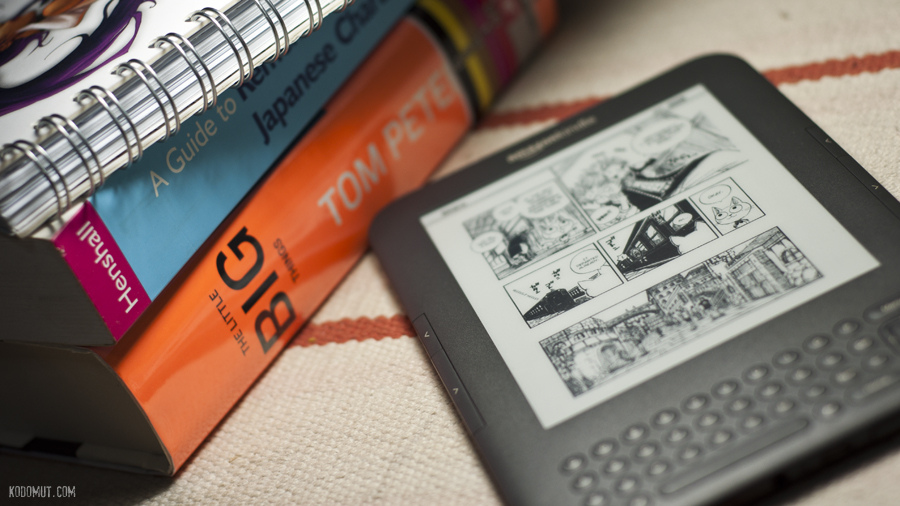 This post is part two of a three part series on building a niche kindle business by publishing ebooks on Kindle. I will cover finding your niche to hiring reliable workers through to marketing and launching your book and blowing away your sales goals.
The purpose of this post is to provide you priceless training on hiring people. You'll learn how to create a system so your business does your work for you.
I'll teach you:
How to find the most reliable workers so you can trust them not to WASTE your money
How to

save time and money

during hiring to get the most profits quickly
How to AUTOMATE the process so you can spend less time & money on more books
I'll also provide you negotiation techniques, costs, tips, tricks, templates, and everything you need to REPLICATE what I do to hire my workers.
Finding Time
For most of you, finding time to starts a business is almost impossible to find.
I don't blame you!
When I published my first book, I was working a stressful, full-time job. I always felt burnt out by the time I got home from work, and I'd spend my evenings cooking, working out, and winding down from my day by watching some TV.
Doing more work was like pissing in the wind – it just didn't make sense to me
Even when I tried to get an idea in motion, I didn't have enough mental capacity to get the job done. It wasn't until I learned how easy, and smart it was to hire people when I finally realized what the word passive income really meant.
The idea is simple – spend money to make more money. Build a system to make money and invest your money into it so you can make more money and scaled the system up.
The best part about publishing ebooks on Kindle – your system only requires 2 people to hire:
You Writer
Your Designer
By outsourcing most of your work to your writer and designer, you can get a book published while spending less than
2 hours of your own time
.
This includes the time it takes to choose, and hire the right people for the job.
Finding Your Writer
Your writer's responsibilities will include:
Writing and formatting your niche book
Finding pictures for your book
Writing a description for your book
Creating an author's page
Finding the right writer can be difficult if you're not sure what you're looking for. Most people who apply for your position will not be qualified for the role and you'll just waste your money and time.
I've found it helpful to look at the hiring process as you would a filtration system.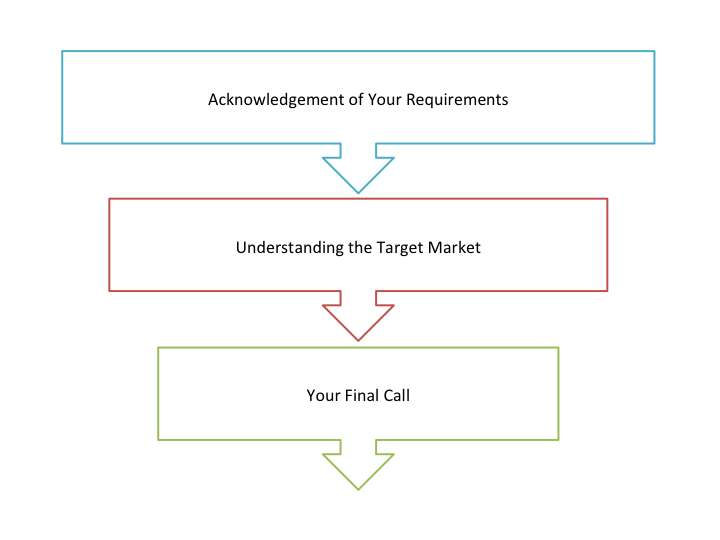 There are layers of people you need to filter through to get to the right one for the job.
In this case, there are 3 filtration stages to finding your writer:
Acknowledgement of your requirements
Understanding the target market
Your final call
1 – Acknowledgement of Requirements
The first thing I want to do is filter out all the people who either don't read my job description, or will not work according to my requirements (price, delivery time, format, structure, etc.)
I do this by clearly explaining my requirements, and using and then using a code phrase at the end of the job description as a metaphorical 'acknowledgement' of my criteria by the writer.
Anybody who uses the code phrase will automatically be filtered through to the second stage of screening.
Action Items (20 mins)
Here's the step-by-step to setup the stage 1 filter quickly.
Sign up for an Elance account and register a credit card
Post a job using the settings shown below

Category: Writing and Translation – Ghost Writing
Skills: Article Writing, Content Writing, Creative Writing, English
Price: Fixed, Less than $500

Now for the most important part, here's an example of the job description that would be posted:
Notice how everything's on the table through this job description alone.
Now – I know that anybody who responds with the phrase, 'Tremendous Trousers', has understood, acknowledged, and/or accepted my requirements.
2 – Understands Your Target Market
As I mentioned earlier, that every applicant who responds with the phrase, Tremendous Trousers, will move onto the second stage of hiring.
The reason I do this is to save more time.
The more I'm able to narrow it down, without spending a lot of time doing so, the easier it'll be for me to sort through fewer, more qualified applicants and their past work.
I then send out automatic responses 3 days after I've posted my job
This way I have enough applicants so I'll most likely be able to find my worker through the first crop of applicants.
Of course, if I'm unsuccessful filling the position, I'll just repeat this second stage screening process on the newer applicants.
The purpose of this stage in the screening process is to find the writers who are the best researchers, and the writers who know the most about your book's topic.
Here's an example of how I'd respond to the applicants:
I'll attach a screen-cast video of myself conducting the research on my niche (similar to what you learned in
post one
of this series).
If you'd like to skip this step and use the same copy of the video I use to find my writers, you can download it
here
.
If you completed the action steps from
post one
, you'll know how to choose the writers who know what they're talking about.
It'll be really easy for you to sift through the Stage 2 responses to find the people who understand your target market the best and who'll be able to deliver exactly what you're looking for.
Just compare their answers to what you already know from your own research.
3 – Your Final Call
At this point, you won't have a lot to go through anymore. You'll have about 3-5 extremely qualified authors to choose from.
The purpose of this stage is to look through the final applicants' past work and past work experiences or anything that stands out.
Look for things like:
Spelling errors
Improper formatting
Poor grammar/punctuation
Plagiarism (use Copyscape to check)
Poor reviews (flakiness, poor work, poor professionalism, etc.)
Once you're comfortable with a writer, ask them to meet you for a final Skype interview before hiring your writer.
Interviewing Your Writer
The interview is where you'll meet each other for the first time. The purpose of the interview is to make sure your applicant is real, and to negotiate the amount you'll pay them.
The interview shouldn't last long, and the negotiation process is quite straightforward thanks to your job description.
The most I've been willing to pay a writer is $25 per 1000 words
I usually pay this amount when I'm pursuing a niche that doesn't receive a lot of writer applicants.
Once you've decided on a price, provide your writer with a shared folder to submit their work to (I prefer using Dropbox).
Shared folders will allow your workers to share their files with each other, while still allowing you to have access in case of any reviews.
This way, files don't get lost in emails, and you always have the most up-to-date versions available to you in the folder.
Writer's Submission
I ask my writers to fill out a submission form (see below). They upload these forms as well as a PDF, and Kindle version of the book.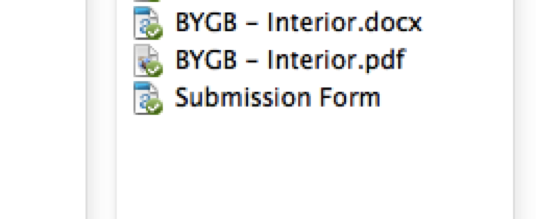 The submission form will look something like this: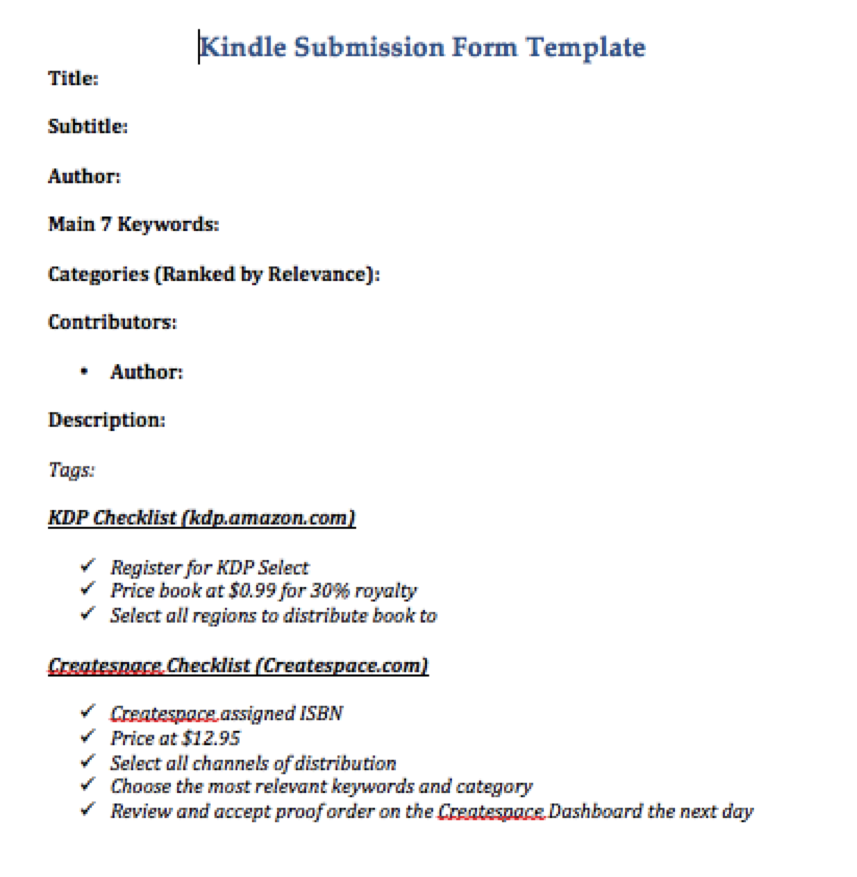 We'll go over this in the next post, but this submission form has everything your designer will need to create the covers, and for you to publish your book.
Editing the Writer's Work
Many publishers don't take this seriously, and they end up getting reviews that destroy the book's social proof.
Editing your work can be the difference between the bestsellers list and having 1-week shelf life.
Your writer's work should always come edited, formatted, and ready to go. Amazon also has a good spell check for books that are uploaded to their direct publishing site.
I still prefer the extra step, so I'm sure to not skip any corners.
I do this by having the writer send me 15-page increments of the book.
Final Review: Family and Friends
I'll then pass on the pages to friends and family, and I'll ask them to read over the work and let me know if anything stands out to them.
In exchange for their help, I'll offer to purchase them a copy of the book once it's published as a thank you for their time, and help.
Once I've received their feedback, I'll send it over to my writer for a final review before the book is ready to be submitted.
Once the book and submission form are ready, and uploaded to Dropbox, It's time to hire a designer for your book cover.
Hiring Your Designer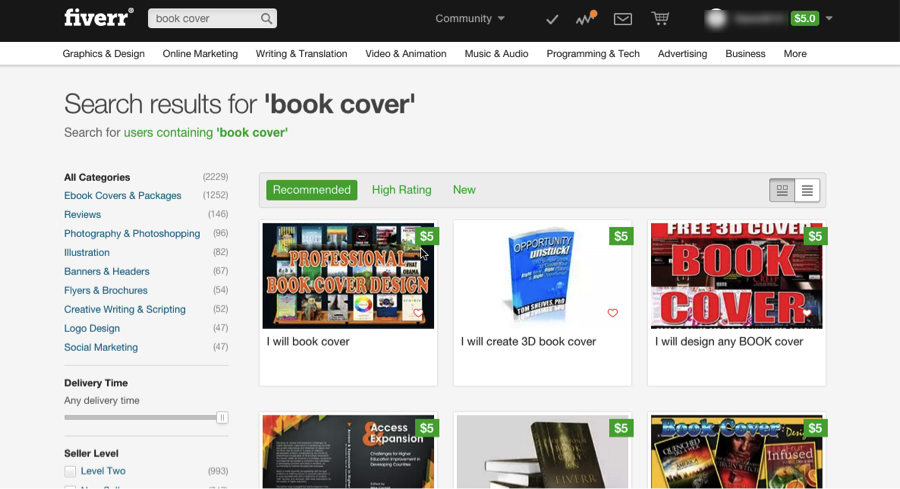 Your book cover will be the first thing the readers look at before they decide to check out your book.
It's extremely important that your cover design looks modern, professional, and trendy. Many publishers look past this, and put up book covers that look like a grade 2 art project.
Remember, this is a business. If you're not proud of the book you put out, there's not point in publishing it. You won't make any money unless you do it right.
Action Items (10 mins)
Here's my method to get a book cover done quickly, and for a really good price:
Visit fiverr.com, sign up for an account, and search for the term – book cover
Sort by highest rating and find 5 designers to hire for your book cover. This will cost you $25 the first time around, but any additional book covers will only cost $5 since you've already chosen a designer you like.
Request a JPEG version as well as a Photoshop PDF version of the book cover.
Once you've received your book covers:

Compare them against each other and choose your favourite
Post them on Facebook and ask which one others like the most
Show them to your family, friends, and any artists/designers you know to get their opinions

Once you've decided on the cover you like the most, upload the files to the shared folder. You're now ready to publish your first book!
Here's a couple of my favourite Fiverr designers. These guys do a great job with book covers so I thought I'd share my findings with you.
Your System is Ready!
Now that you have all of the pieces in place, it's very easy to add more books to your portfolio.
After the first Fiverr hire, I usually ask my writers to provide the Fiverr designers with the book details.
This way, I don't have to do as much work, and my writers are often very picky on how their books are portrayed, so they're often willing to do this for free.
Action Steps
Now that you have everything you need, it's your turn:
Create a job posting on Elance to find a writer for the niche you've chosen and put the applicants through the 3-stage screening process.
Interview, hire, and equip your writer with a shared Dropbox folder for their work.
Hire a designer to create a cover for your book, and have your writer give you some input on what to add for a good cover.
In the next post, we'll talk about putting all of this information together, publishing your book so it's available on Amazon as an ebook and a paperback, and how to promote your book so you can make your money back as soon as possible.
Part 3: Marketing Your Book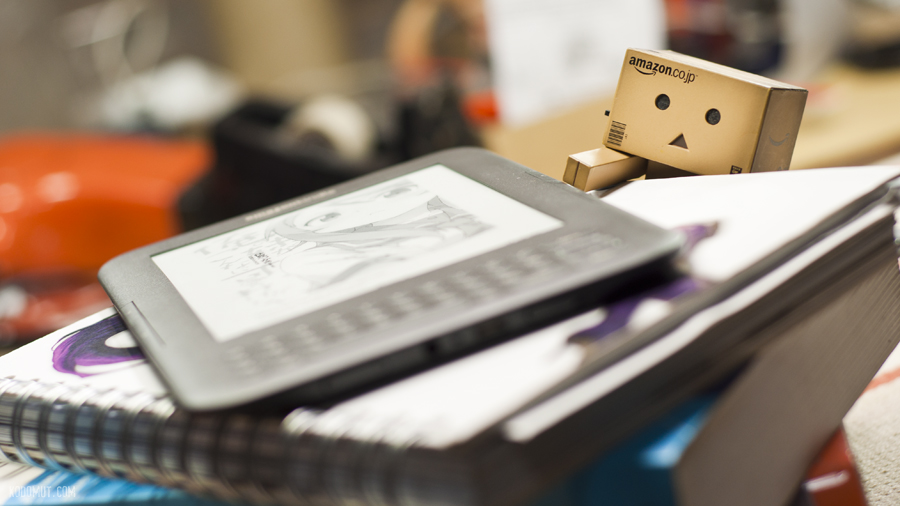 This is the final post of the 3-part series on the exact strategy I use to make $2,700 per month on autopilot by publishing ebooks. So far in this series we have covered:
In this post, I'll cover where and how to put a book up for sale, how to promote the book once it's up for sale, and how to build an audience to sell more books to in the future.
I'll provide tips, and tricks that will help you get more sales for your first book, and for any books you decide to publish in the future.
Before getting into the nitty-gritty, I'd like to briefly touch on the role of the publisher (this is you).
The publisher is responsible for 3 things:
Editing and formatting the book (this includes book covers)
Setting up the online and paperback distribution of the book
Promoting and marketing the book
We've already covered editing and formatting in the first two posts. The remainder of the publishing process will need to be done by you.
You can outsource it if you want, but I haven't found it worthwhile to do so until you're publishing several books at a time, and you can actually afford to hire someone to do this for you.
That being said, let's get into what you have to do now that your book, and book covers are all ready for submission.
Submitting Your Book to Kindle
Your online distribution is where you'll sell the majority of your books.
A strong online presence will inadvertently result in more paperback sales, so it's really important that your information in The Kindle Submission Form Template will have all of the information you need to upload your book to the Kindle store.
(See post 2)
Step 1: Account Setup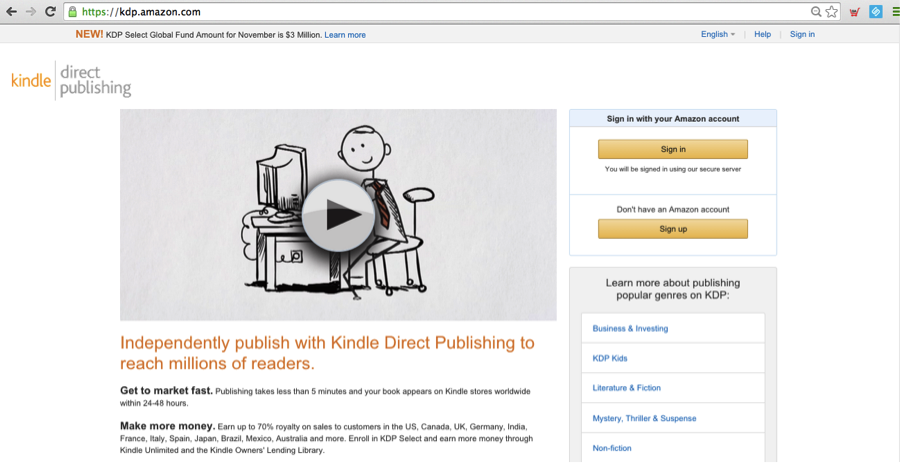 Step 2: Add Your Book
Add your book, and all the book details by referring to the Kindle Submission Form Template.
Make sure that you register your book for KDP Select. I'll talk more about KDP Select when we talk about promoting and marketing your book.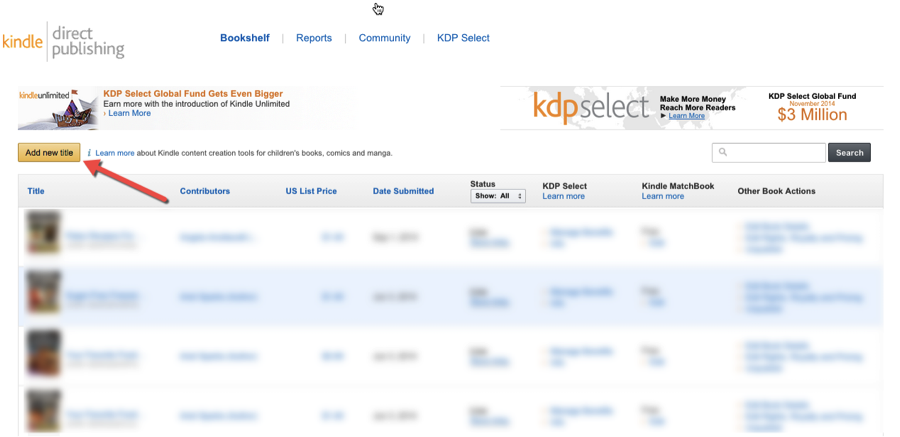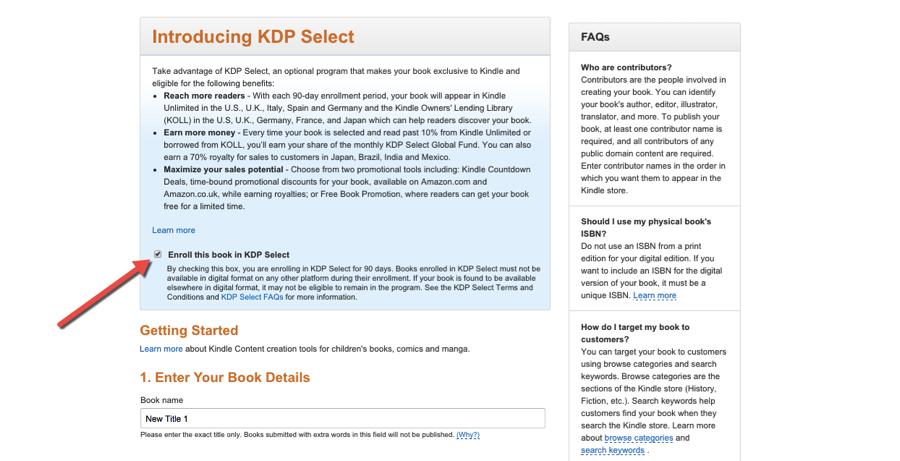 Step 3: Preview Book
Once you've uploaded your book, and filled out all of the details, make sure to preview your book to ensure that there weren't any formatting issues during the upload process.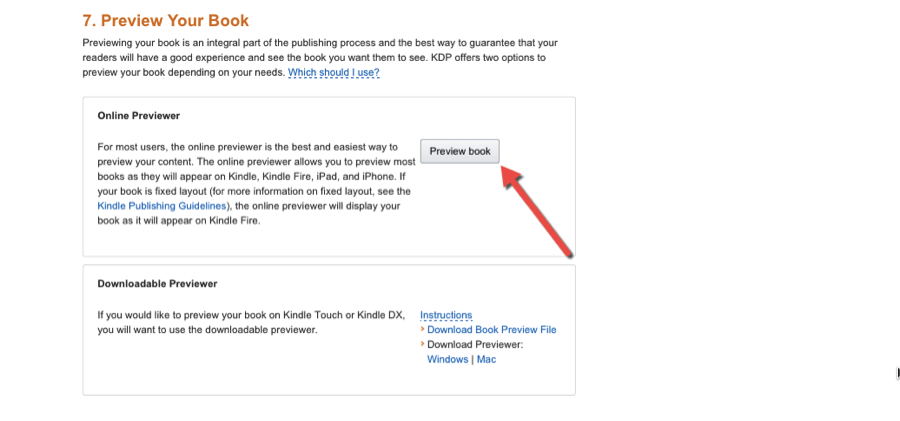 Step 4: Price & Publishing
Fill out the pricing details and publish your book.
Once Amazon publishes your book, you can very well start getting sales right away.
Creating a Paperback Version
Once you create paperback versions of your book, you can distribute them to libraries, book stores, universities, and wherever else you think there's a market for your book.
The problem – how much will it all cost? How much will print and fulfillment cost, and how am I going to find someone to do all of this for me? It seems like a lot of work.
The answer – it won't cost anything. In fact, it'll take you about 10 minutes of your time and you'll be able to set your book up for both online AND offline success.
How?
Well Amazon has conveniently provided an on-demand book printing service on
Createspace.com
.
This service allows you to take all of the information you used to upload your book to the Kindle store, and reuse it for on
Createspace.com
for on-demand printing and distribution to a plethora of distribution channels.
Here's what you'll need to do:
Step 1: Sign-up for CreateSpace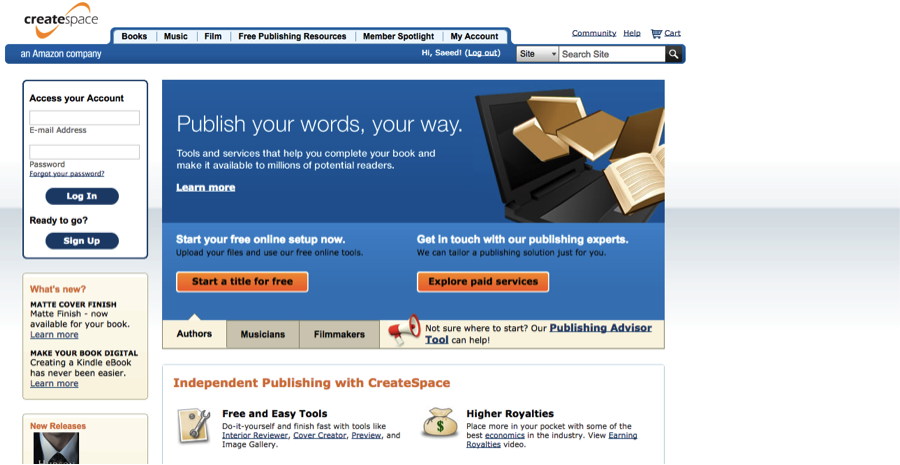 Step 2: – Add the Book Details
Add a new title and fill out the details just as you did with your KDP submission. Choose the expert setup so you can get through the submission process faster.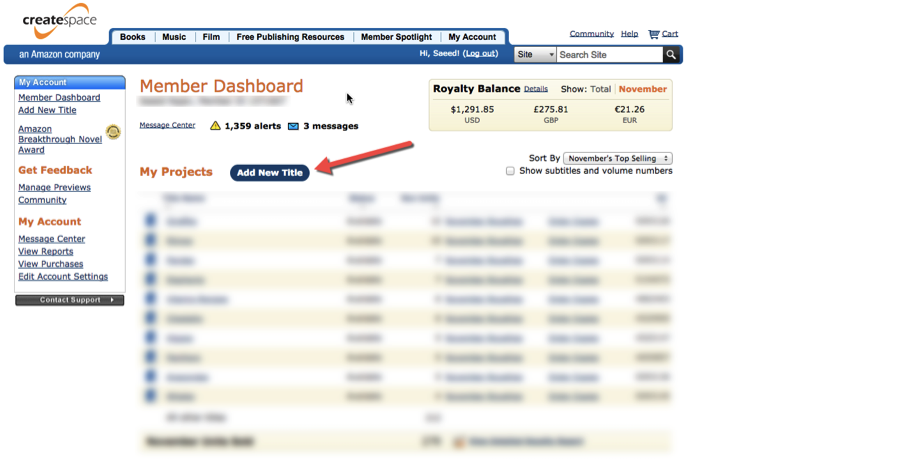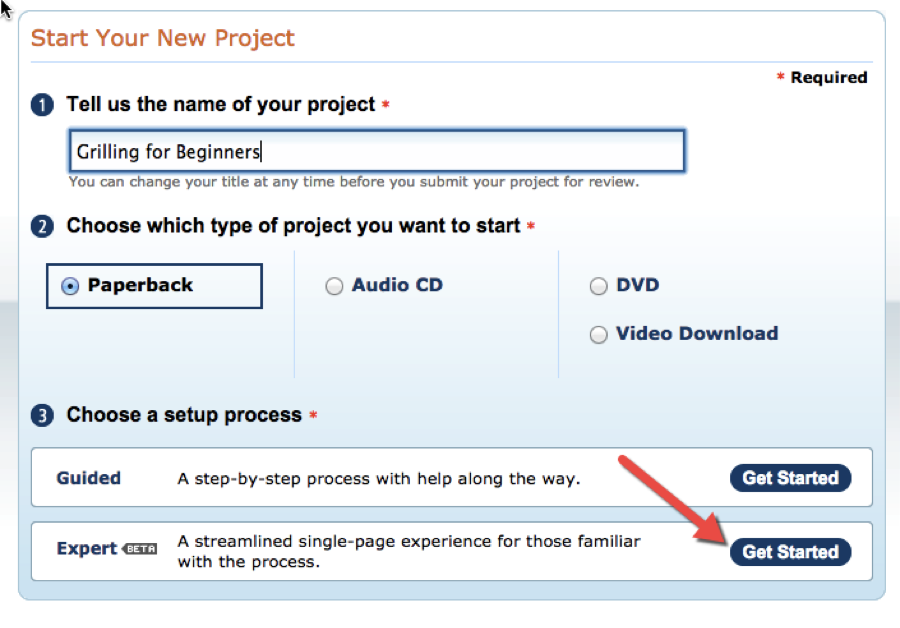 Step 3: Select Distribution Channels
Choose all distribution channels available and submit your book for review just as you did with KDP.
Once your book is submitted, and reviewed by CreateSpace, you'll have to approve a proof order of the book to ensure that the book doesn't have any formatting issues.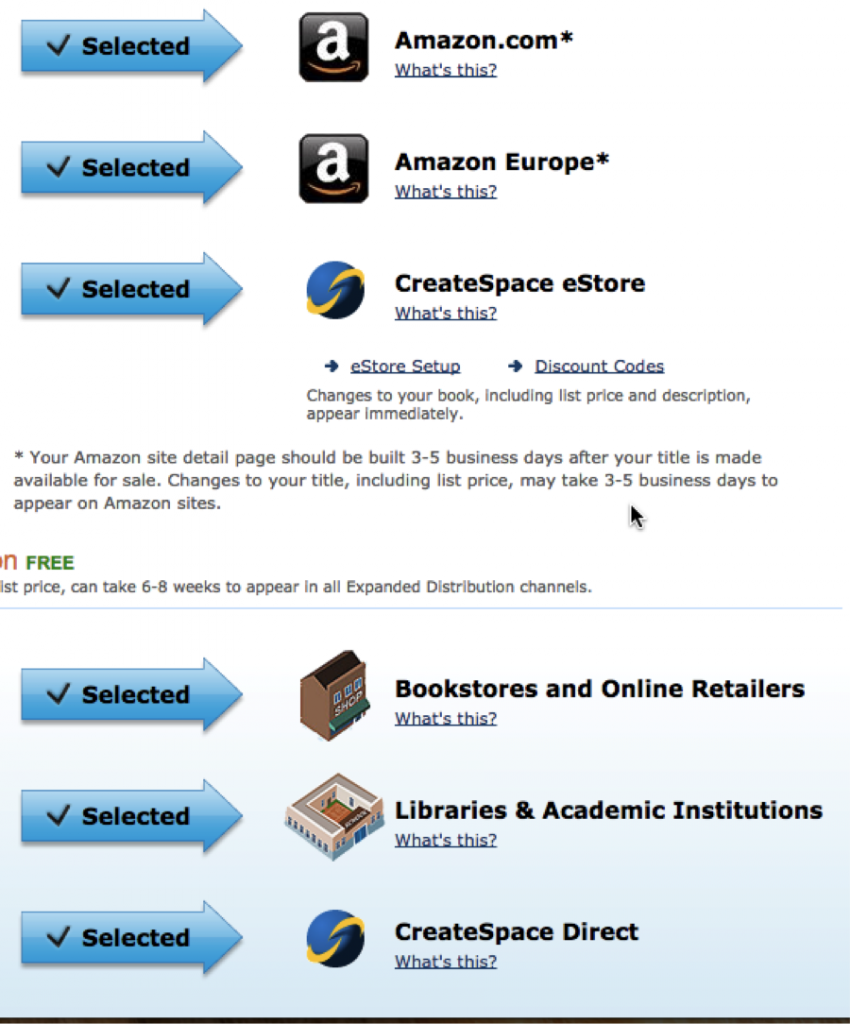 You'll also notice that the Amazon sales page for your book will list both the Kindle price and the paperback price so
make sure that all of the information you use to submit you book to CreateSpace is the exact same information you used to submit your book to Kindle
.
Once your book is published, you can order proof copies at any time to distribute locally to businesses that might be interested in selling your book for you.
The possibilities with your book available online and as a paperback are literally endless.
Now all you have to do is promote your book and let Amazon do the rest.
Promoting Your Book
Remember when I told you to register for KDP Select?
The Amazon traffic that comes along with it is why… KDP Select is a program that allows a more fun, and unique experience for Kindle users.
It allows for readers to lend, and borrow books among other fun features they offer to their subscribers.
By electing to register your book for KDP Select, you have the ability to promote your book within Amazon using things like Kindle Countdown Deals and Free Promotions.
Then, if your book gets a good response from the market during your promotions, Amazon will reward your book by promoting it to Amazon users who would be interested in books like yours.
The important thing to remember is that Kindle's ranking and promotion system is heavily favoured to books that:
Get lots of downloads
Get good reviews
Basically, the goal is – by the end of your promotions – to get as many downloads as possible, while having at least 5 good, honest reviews posted to your books page.
I prefer using Free Promotions, but I've found success with Kindle countdown deals as well. The method I'll go be going through is my Free Promotions method.
Step 1: Set-up a Free Promotion
Once your book is published, go to your bookshelf on
kdp.amazon.com
and setup a Free Promotion by navigating to the Manage Benefits option of your book.
Set up a 5 day promotion starting the next day.


Step 2: Get Honest Reviews
For the next 5 days, you goal will be to find as many people as you possibly can to provide an honest review of your book.
The best way to go about doing this is to ask family and friends to download your book for free in exchange for an honest review.
Post it on your Facebook, Twitter account, email list, and really anywhere you can find people who have an
Amazon
.
com
account.
You can also find groups of publishers on Facebook who are willing to exchange reviews. You would be responsible for downloading their book and providing an honest review in exchange for them returning the same favour.
Do not pay for reviews, and do not get fake reviews on your book. It's illegal, Amazon will flag it, and it's really easy for customers to tell if a review is honest or not.
By the time your promotion is over (5 days later), your book should have enough reviews, and downloads to ensure a successful launch for your book.
If your research was done correctly, and you followed each of these posts, step-by-step,you should have no problem experiencing continuous returns on your books for as long as your book is relevant.
After you've figured it out and become more comfortable with the system – just scale it up. Hire more authors, and put a little more time in right now – so you can reap all the benefits in the future.
Action Items
And…can't forget the action steps:
Upload you book to the KDP website and the CreateSpace website
Setup a promotion and gather at least 5 reviews during your 5-day promo
That's it, your complete guide to publishing ebooks on Kindle. Thanks for joining me through this – I really enjoyed sharing this system with you!
Remember to join the mailing list so I can keep you updated with cool new techniques I learn, and other business ventures I plan to share.